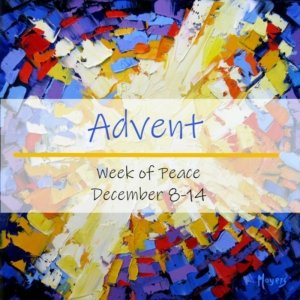 "Advent" means "coming" or "arrival." During the season of Advent, we celebrate Christ's coming into the world and watch with expectant hope for his coming again. In its historical origins, the season of Advent was patterned after the season of Lent, a six-week period of penitence and preparation for Easter. Similarly, the four weeks of Advent present an opportunity for communal discernment and personal examination, as the church prepares to celebrate the Nativity of the Lord and looks with hope for Christ's return. (From the PC(USA) office of Theology and Worship)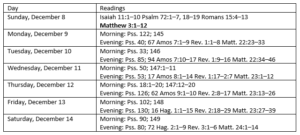 Every year John the Baptist shows up in our preparations for Christmas by calling us to repentance. The root of that word "repentance" means turning—now is the time to turn back to God. We do this through practice of scripture reading, prayer, and confession. We do this through worship and service. Above all we do this with God's help. The prophets encourage us to turn because, in Jesus, God has promised to meet us in a new way. As we turn towards God, God is always turning towards us.

Sunday, December 8
Adult Sunday School
Miller Room
9:15 a.m.Children's Choir Rehearsal
FPC Sanctuary 
9:15 a.m.Children's Pageant Rehearsal
FPC Sanctuary
9:45 a.m.
Fellowship
Commons
10:00 a.m.
Worship
Sanctuary
10:30 a.m.
Monday, December 9
Morning Prayers
Library
9:30 a.m.
Bible Study
Library
10:00 a.m.Tuesday, December 10
Book of the Month Club
Blue Ridge Elementary School
9:00-10:30 a.m.Thursday, December 12
Presbyterians at the Pub
Dalton Brewing Company
5:00 p.m.