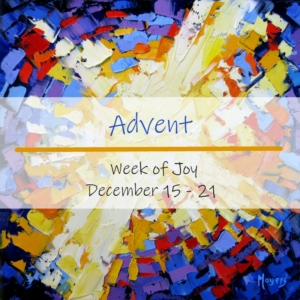 "Advent" means "coming" or "arrival." During the season of Advent, we celebrate Christ's coming into the world and watch with expectant hope for his coming again. In its historical origins, the season of Advent was patterned after the season of Lent, a six-week period of penitence and preparation for Easter. Similarly, the four weeks of Advent present an opportunity for communal discernment and personal examination, as the church prepares to celebrate the Nativity of the Lord and looks with hope for Christ's return. (From the PC(USA) office of Theology and Worship)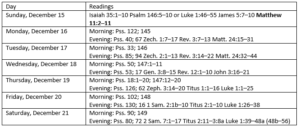 Once again we meet John the Baptist, who offers the same question to Jesus that we would—"Are you the one who is to come, or are we to wait for another?"
We're in the season of waiting. We wait for holidays and celebrations; and we wait for earnings reports and test results. We wait for the good things that will enliven our holidays; and we wait for those things we worry will take away from any kind of joy we hope Jesus has come to bring. We have specific dreams in mind that we're waiting for, those things we just know will make everything turn out alright. And then, we remember that the world doesn't revolve around us and, thanks be to God, Jesus offers something more: "Jesus answered them, 'Go and tell John what you hear and see: the blind receive their sight, the lame walk, the lepers are cleansed, the deaf hear, the dead are raised, and the poor have good news brought to them. And blessed is anyone who takes no offense at me.'" Why would we wait for anything else?

Sunday, December 15
Adult Sunday School
Miller Room
9:15 a.m.Children's Pageant Rehearsal
FPC Sanctuary
9:45 a.m.
Fellowship
Commons
10:00 a.m.
Worship – Children's Christmas Pageant
Sanctuary
10:30 a.m.
Monday, December 16
Morning Prayers
Library
9:30 a.m.
Bible Study
Library
10:00 a.m.
Thursday, December 19
Women's Christmas Fellowship
Kathryn Seller's Home
4:30-7:00 p.m.
Presbyterians at the Pub
Dalton Brewing Company
5:00 p.m.
Saturday, December 21
Young Adult Christmas Party
The Granillo's Home
6:00 p.m.