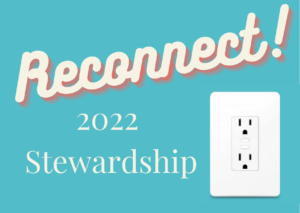 It was about 25 years ago that Jack and I started talking about getting a little RV in retirement and traveling around the country. When we would see small RVs on the road, we would point them out to each other and longingly say "there's our density." Not destiny (which would make sense), but our density. Click here for reference.
In fall of 2019, we met our Density in the form of a Winnebago Travato 59K camper van. We flew down to Sanford, FL to pick it up; Jack planned ahead and had a license plate that read "Density" installed on the front of the van. We were in love!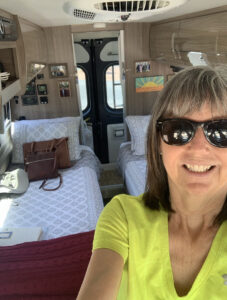 I told Will in January 2020 that I was going to be a bad church member for a while because we planned to be on the road a lot. He forgave me…but then COVID hit and shut everything down. We tuned into the live-stream, and I ended up having perfect church attendance for a full year.
Even during lock-down, we were able to do some traveling; the Density (outfitted with full kitchen and bathroom facilities in addition to adorable twin beds) lets us take our hotel room with us. We camped at several Georgia state parks and even went to the beach. Camping is a surprisingly pandemic-friendly activity.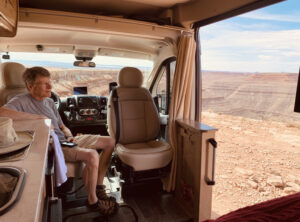 This past spring, we were finally able to use the Density the way we'd always intended: we went out west for six weeks. We traveled Route 66 through Oklahoma, Texas, New Mexico and Arizona, and visited many of the national parks in Utah, Wyoming, and South Dakota. We marveled at the splendor of God's creation as we explored the Painted Desert, Petrified Forest, Monument Valley, Grand Canyon, Bryce Canyon, Zion, Yellowstone, and the Badlands. We saw little houses on the prairie and man made marvels including Hoover Dam, the St. Louis Arch, Los Alamos, and Las Vegas.
It may indeed be a small world, but our country is vast. We logged nearly 8,000 miles over 41 days, visiting 17 states and learning, living, and loving in 104 square feet.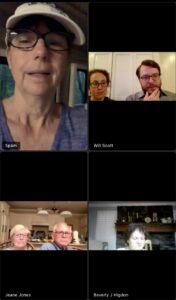 Although we were far from home, technology helped us feel closely connected to those we'd left behind. There were some postcards here and there, and a special Instagram allowed me to post our adventures in real time. When the WiFi stars aligned, we were able to watch the First Pres Sunday live-stream in our Density. I will never forget hearing the choir sing First Song of Isaiah on Mother's Day and weeping from our desert location near Santa Fe. Will's preaching and the joyful noise from the choir loft are as stimulating and comforting and compelling on the road as they are in the sanctuary or in our living room.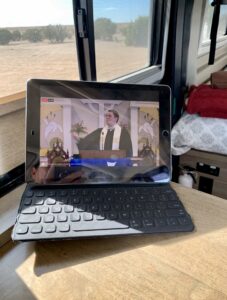 I have worshiped with y'all from our Density, done Bible study via Zoom, and even Face-timed Presbyterians at the Pub from the Route 66 Museum in Clinton, Oklahoma. Just as nothing can separate us from the love of God, neither time nor distance can separate us from the sense of family that radiates from our loving community of faith.