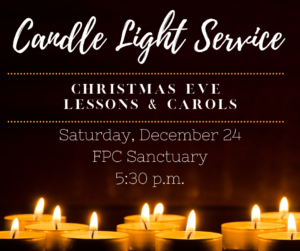 The Festival of Nine Lessons and Carols is one of the pivotal and most popular choral services of the year. For many, it marks the beginning of Christmas. "Candle Light" – our version of Lessons and Carols will be held on Saturday, December 24th at 5:30. The program will be replete with familiar tunes that transport us, stripping us away from our daily routines down to the very corpuscles of the basis of our faith and what is called the greatest story ever told.
From the very beginning in the Garden of Eden with the fall of man, to the great prophecy of Isaiah foretelling of a a great King of Kings, to the rocky scrubland outside Bethlehem where sheep are huddled together in the cold, as we witness shepherds trembling in fear at the sight of angels, who tell of a birth. We hasten down the uneven terrain following on the heels of the shepherds, bustling into a crowded, ramshackle shed barely fit for livestock, surrounding a feed trough filled with hay, sheltering the light and hope of the world; the King of Kings, as Isaiah foretold. Transfixed by this moment – bowing our heads and hearts toward the manger in sheer awe and wonder as this little babe wrapped in swaddling clothes lies so innocently under his mother's watchful eye – we are reminded of our very hope of salvation – and for a moment in 2022, we all share a remarkable gift sent from above in true peace and unity as we sing "Silent Night."
Expect a wide array of music from the Chancel Choir and soloists. The past two years, we've enjoyed a more intimate and gentle approach to the manger, with the lyricism and expressive qualities of the string quartet. This year, we march confidently to the root of Jesse, the savior of us all, to a traditional brass quintet, which, if all goes to plan, will be heard from the Waugh Street Bridge as we usher in the Christmas season with a very special arrangement of Adeste Fidelis. Expect a pronunciation tutorial in next week's MidWeek News to perfect your Latin, and join us on December 24th at 5:30, whether on S. Selvidge St. or on Facebook Livestream.