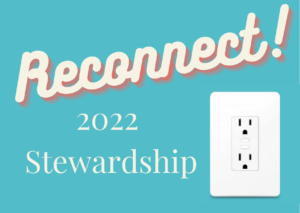 Reconnecting Through a Bequest:
Jimmy and Marjorie Miller Still Giving to First Pres Dalton
The home place on Miller Street in Dalton has been sold.  The son and daughter who grew up there have moved on to other states, established careers, married and started families.
It is one of those families that, to the Daltonians who knew them, seemed to be a permanent part of our community fabric even though today the family is not physically present.
No close relatives remain in Whitfield County, but many close friends and at least one entity that tied them all together for decades remain.  That son and daughter made a pilgrimage to Dalton from Charlotte, N.C., and Lexington, S.C. respectively this summer to handle some family business.  In the process, they reflected on their upbringing in terms of their parents, their hometown and their childhood church.
"This past year has pulled people together in ways we haven't been in a while," Jim Miller, III, commented, referring to the impact of the Covid-19 virus.  Those words could have been spoken by his father, the late James D. Miller, a Dalton native who grew up on Miller Street and then reared his family on Miller Street.
Jimmy Miller, as he was known, made many contributions to his hometown and among those was his long-time tenure as an Adult Sunday School teacher and his service as an Elder at First Presbyterian Church of Dalton.  His daughter, Peggy Miller Torrey, remembered his usual Saturday routine of playing golf at the Dalton Golf and Country Club and then returning home to his Barclay Commentaries to study and prepare for his Sunday School lesson the next day.  His wife, Marjorie Soar Miller, focused her church work on nurturing children, but provided leadership and participation in many facets of the church as well.
Both Peggy and Jim talked about their spiritual legacy handed down by their parents.
"Church was a central part of their lives forever.  It was a loving expectation (of their children), but it was an expectation.  Both made clear to us that faith is important," Peggy said. "And church and church work are as important as faith because they are the way you show your faith.  We were always told that you need to find a place to use your gifts and give back."
Her brother Jim added that he and Peggy were taught by their parents that, "Work with and support of the church are among the top things that you do in life.  You make room for this.  It was expected and appropriate."
The purpose of their trek to Dalton that day was to present a financial gift to First Presbyterian Church from Jimmy and Marjorie Miller, a bequest payable upon their passing.
"Peggy and I had nothing to do with this gift," Jim stressed.  "It was important to (our parents) to do this properly and in order because that is a trait of the Presbyterian Church.
A small gathering of church members and friends witnessed the handing over of the gift, a generous token of the senior Millers' gratitude for their long-time church home that served as a central gathering place for family and friends.
The apples did not fall far from the family tree.  Jim and his wife, Kay, are members of Myers Park Presbyterian Church in Charlotte where both are active.  Peggy married a Presbyterian , Dave Torrey,  and continued her Presbyterian path in South Carolina.
In addition to their dad serving as a life-long, active Presbyterian, their paternal grandfather, James D. Miller, was also an Elder in the Dalton church and their paternal great-grandfather, John Henry Miller, was a Cumberland Presbyterian Church minister.
"I love the Presbyterian Church.  It's a nice blend of formality and reverence.  I love the blend of loving grace, reverence and awe," Peggy volunteered.
"There is a feeling of connectedness and strength in the church," Jim added.
That "connectedness" does not go away, as Jim and Peggy proved to themselves and others on their journey to Dalton to tend to their parents' request.
No matter where you are or how long you have been gone, First Presbyterian Church, Dalton, invites you to Reconnect with your presence and your presents of time, talent and tithes.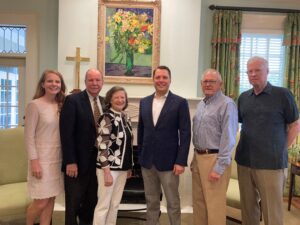 Miller Family Presents Bequest to First Pres from Jimmy and Marjorie Miller Estate
From left, Lindsay Miller Socha, Peggy Miller Torrey, and Jim Miller with The Rev. Dr. Will Scott, Church Treasurer Bob Hubbs and long-time Miller family friend and neighbor Walter Jones.
Mrs. Torrey and Mr. Miller are the daughter and son of Jimmy and Marjorie Miller. Mrs. Socha is daughter of Jim Miller and granddaughter of the senior Millers.