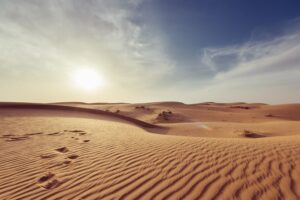 One of the dominant images we have for Lent is wilderness. Lent is the forty-day season when we prepare for Easter. It corresponds to Jesus' forty-day sojourn in the wilderness at the beginning of his ministry. Some of the Biblical symbolism is obvious. Just as Israel learned to follow God in the wilderness (in their case over the course of forty years), so too did Jesus learn the reliance on God that would guide him in his work. Lent confronts us with the question: how are we preparing for the way of the cross and resurrected life?
This Lent, you are invited to prepare for the season through a reading of Thomas Merton's The Wisdom of the Desert. Merton is one of the most well-known spiritual writers of the Twentieth-Century. He lived much of his life as a monk at the Abbey of Gethsemani outside of Louisville, Kentucky, making the Church's monastic spiritual traditions accessible to a popular audience through his writing. The Wisdom of the Desert compiles a short collection of sayings from the Desert Fathers and Mothers, Third-Century Christians who fled to the isolated wilderness in order to practice a more authentic faith. Merton presents their example as guides who sought to find "their own true self in Christ."
Conversations on Merton, Monasticism, and Lent will take place on the following days:
Wednesday, February 24 @ 7:30 PM – Introduction to Thomas Merton
Wednesday, March 3 @ 7:30 PM – The Desert Fathers and the Seven Deadly Sins
Wednesday, March 10 @ 7:30 PM – Sayings of the Desert Fathers and Mothers I
Wednesday, March 17 @ 7:30 PM – Sayings of the Desert Fathers and Mothers II
Join us as we journey through the Lenten wilderness together! Click HERE to purchase the book.